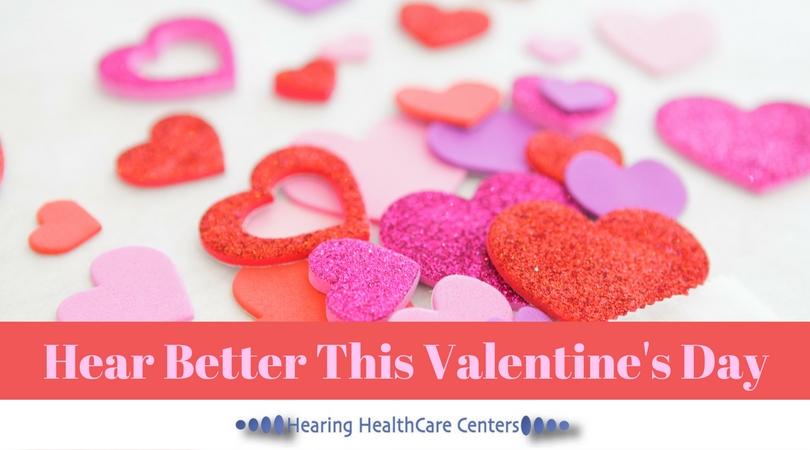 It's hard to believe that Valentine's Day is quickly approaching! It's that magical time when retailers fill their stores with chocolates and flowers and, in turn, hope that you fill the air with love. But there is one aspect of Valentine's Day that many couples are challenged by each year – and that is hearing loss. Wouldn't you want your loved ones to hear better this Valentine's Day?
You won't see it mentioned in heart-filled cards, and you won't hear about it in romantic movies. None-the-less, according to the Hearing Loss Association of America, hearing loss affects 48 million Americans.
If you or your loved one is experiencing hearing loss, here are a few quick tips to help make your Valentine's Day plans more seamless:
Wear your hearing aids (if you own them). Always keep a package of batteries and wax guards in your purse or pocket to avoid any last-minute issues. Please contact us if you are running low on these supplies or if you need to schedule an appointment to clean and check your hearing aids to ensure that they are performing properly.
If you are going out to dinner, try to pick a quiet restaurant. Also, when making your reservation, try asking for a quiet table, possibly in a corner.
If you plan on going to a movie or a theater, try to pick seats that are towards the front and in the center. Some theaters let you select your seats ahead of time while others are first-come, first-serve. To avoid a frustrating situation, try to show up early to allow for plenty of time. Additionally, ask the theater ahead of time if they have any type of induction loop system. If they do, this system can help broadcast the sound into telecoil-equipped hearing aids.
Hopefully these quick tips will help make this a special Valentine's Day. Being able to hear your loved one is key to a successful date night!